Skin lightening trends are very common among the Africans and Asian communities all across the world and the statistics have confirmed the fact with up to 70% of black women applying skin lightening products in various parts of the world. Africa alone has approximate 2/3rd of world's dark-skinned population.
Introduction
The World Health Organisation recorded that by the late 60's over 60% of urban women in Africa reported using skin lightener formulas and it was fourth most commonly used product in an average African household. In African countries, there also tends to be a bigger market for unregulated products which cater to the middle class and low-income segments of the country.
Such products lead to harmful side effects and cause allergic reactions from toxic components such as Hydroquinone and other chemicals present in the products. In this article, we will talk about some of the best skin lightening products for black skin without Hydroquinone.
However, before that let's understand the skin lightening trends among African women so far to highlight the underlying serious concern of using highly chemical based skin lightening products on black skin.
The Trend
Although it is an uncommon practice in America, African-Americans use different varieties of skin bleaching products that are easily available in the market. Unfortunately, in some regions, lighter skin means better job opportunities and lesser prejudice in the white-dominated countries. This is a true scenario for South African countries where even the government was white dominated which lead to the skin lightening practice for many decades.
Due to lack of research in production, manufacturing, and use of sub-standard components to meet the market requirements, the companies have been selling out highly chemical-based skin whitening creams to keep up with the demands of the consumers.
The most commonly used products are skin bleaching and skin lightening creams. Olay, L'Oreal, Neutrogena, Fair & Lovely, and Lotus are some of the international brands that have been made available in the African market. In the US, these brands are off-the-shelf products that are not expensive and thus more easily available to the middle and low-income households.
Hydroquinone Side Effects on Black Skin
It is important to note that a substance called Hydroquinone, (also benzene-1,4-diol or quinol) is actively used and present in a majority of skin whitening and bleaching products. It is commonly used for lightening of the skin, for the treatment of hyperpigmentation, spots, etc. Hydroquinone can lead to a skin disease called ochronosis which is an untreatable skin dis-colouration which occurs when the substance is used in very high concentrations (above 4%) or over a long period of time. Since hydroquinone is used to lower the melanin content in the skin, it has an overall bleaching effect that may cause rashes, sunburn,  spots and other sensitivity issues.
It is not to say that Hydroquinone is not used in international brands. Usually, the prescribed limit in high-end skincare products tends to be between 2%-3%. Anything above that is usually sold only by the doctor's prescription or must be used under regulated conditions. Hydroquinone is sometimes combined with alpha hydroxy acids that help exfoliate the skin and promotes the skin lightening process.
However, the common side effect of this chemical is skin sensitivity, especially to the sunlight. Research has shown that the carcinogenic (cancer-causing) effect of hydroquinone has yet to be ruled out completely.
As late as 2016, the country of Ghana and some other South African nations issued a ban on the importation of all products containing hydroquinone due to the evident dangers from its use. However, the black market continues to be an ardent supplier of these skin lightening products. Considering the fad for light skin, many women using these products are blissfully unaware of the serious and harmful side effects arising from it.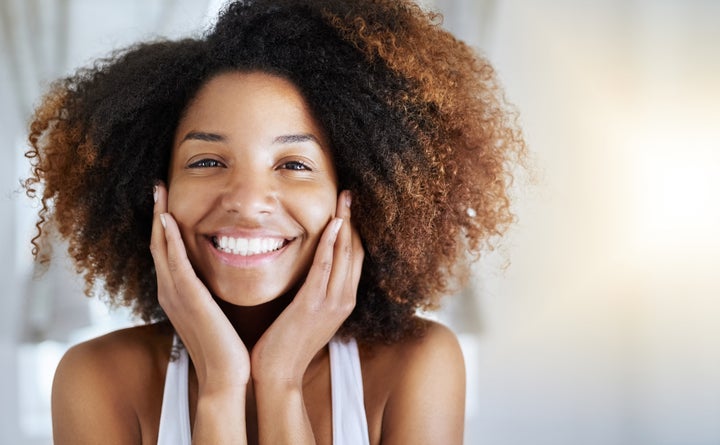 Other Harmful Chemicals In Skin Whitening Creams
In addition to Hydroquinone, other substances like mercury and different kind of steroids are used to speed up the lightening process in the skin. Many of hydroquinone, steroid and mercury-based products have been banned or regulated by the US, Europe, Japan, Australia and even African countries.
However, one out of at least three products inevitably contain modified versions of these components and are sold over the counter. The most commonly used steroid type in lightening products are corticosteroids.
Excessive use of this steroid is prone to cause skin thinning as well as excessive facial hair growth due to alteration in the hormonal balance of the body.
The thinning of the skin happens due to the removal of excess melanin cells. This leaves the skin more exposed to environmental conditions since melanin is the skin naturally occurring pigment produced to protect the skin.
Many skin whitening products today contain high doses of steroids because you can immediately start seeing the lightening effect on the skin. This is mainly due to its effect as a Vaso constrictor i.e. it starts thinning the blood vessels which causes lesser blood flow to the skin making your skin look pale and white.
Use of mercury is effective for skin whitening since it is easily absorbed into the skin. The problem is it cannot be easily removed and can cause severe side effects to skin. Long-term effects include damage to the kidneys and brain.
The fact is that most products bought over the counter or in the market will have some effects or the other. Specifically for black skin in African or African-American women, the melanin content is high. Hence, the products sold in the market for such skin tends to be that much harsher and much more toxic to the overall well-being of a person.
Reviews for Best Skin Lightening Creams Without Hydroquinone
#1 – Amaira Skin Lightening Serum

Click for Best Price
The safest bet when it comes to skin lightening creams is definitely one without any of these harsh chemicals that are dermatologically tested on dark skin. A good example of this would be "Amaira Skincare's Natural Lightening Serum". This product contains no hydroquinone, no mercury and no steroids, and has herbal active ingredients such as mulberry and orchid extract.
We've tested numerous skin lightening products with bold claims and have come to a conclusion that Amaira Natural Lightening Serum is by far the most effective solution out there. It beats tough competition like Meladerm and Zeta White easily due to the transparency of their ingredients and the potency of their formula. It'll deliver the same results as chemical based skin bleaching products but it is made from natural ingredients, so why take the risk of chemicals?
It's FREE shipping for those of you in the USA and great multi-buy offers also make it very affordable for anyone who struggle with dark spots, acne spots, hyperpigmentation or just want their intimate areas to look better. Amaira also offers 60 Day Money Back Guarantee if you are not satisfied with the product. The serum is made in an FDA-licensed facility in the USA and is one of the leading premium brands in the skin lightening industry.
Our rating: 5 out of 5
#2 – Zeta White
Zeta White is one of the latecomers to this already saturated market. With its unique 3-in-1 formula, this cream keeps by working on your skin 24/7 and we believe this is what is making it a great natural skin whitening creams if you have the patience (and the budget) for their 3 step system. Whether it's skin hyperpigmentation issues or sun damage, Zeta White suits all skin types.
100% vegan, natural, not tested on animals and does not contain any harsh chemical
The product works by decreasing the melanin content of your skin and has three different products in it's range.
Our rating: 4.2 out of 5
#3 – Meladerm
The product is engineered to work by evening out the skin tone leading to a brighter complexion altogether. This is achieved by minimizing the appearance of sun damage and hyperpigmentation issues that might have covered up certain areas on the skin.
The process takes around 2-3 months for you to start witnessing the desired results. The skin tones get gradually even and lighter.
Meladerm rating: 3.8 out of 5
#4 – ​Revitol Skin Brightening Cream
Revitol cream is a herbal based cream that is specifically developed to make dark skin look lighter. The ingredients used in the creams are not just the plant-based but also safe to minimise the pigmentation, freckles, and liver spots
Revitol lightening cream provides a great way of lightening the dark appearance of black skin with the regular usage
This non-hydroquinone cream contains Arbutin, Shea Butter Lumiskin, and Allantoin which combines to provide you with an excellent skin whitening, moisturising cream.
Our rating: 3.4 out of 5
#5 – Obagi Nu-Derm Clear FX Skin Lightening System
Obagi Nu-Derm Clear FX is another skin whitening product which includes the active ingredients such as Water, Arbutin, Vitamin E & Glycerin. The Nu-Derm System enters underneath the skin and makes changes to the functioning of the skin cells by reducing the high melanocyte production.
It is free from hydroquinone and is proven to reduce dark spots and blotchy skin for African and African-American skin.
The brand claims that it is more effective and brightening alternative as compared to the hydroquinone based brightening creams.
Thought the cream takes little longer to deliver the results, it works for all skin types and regular use of the cream will provide you gradual lightening effect on your skin
Our rating: 3.1 out of 5
Conclusion
A little research definitely goes a long way in skin care because once you are aware of what works and what does not, you can make a wise decision in choosing the right product.
Checking the components of your skin lightening cream is very important especially since there is no set standard for ensuring and execution of the ban on toxic chemical components used in skin lightening and whitening products.
Let us know in the comment box if you have used any of the above-mentioned products and what has been your experience so far. We would love to hear from you!
Better safe than sorry is the best policy when it comes to self-care, always!